Exhibitions
Festive Collective - November - December 2012
Reverse Emporium at Reverse Garbage's end of year exhibition promoted sustainable Christmas gifts for friends and family, handmade with love!
The exhibition showcased jewellery, soft furnishings, home wares, fine artworks, paper goods and gifts for the eco-conscious buyer! These original items were the work of over 30 talented Brisbane artists, craft workers and designers who salvage, re-use and up-cycle materials to create their works and wares!
We also kicked up our heels and celebrated the end of the year with an opening night party that featured fabulous live local bands, Hawk & Bone and Out of Abingdon!
Junkie Couture II - September 2012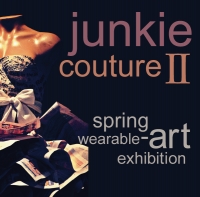 Sustainable fashion featured at Reverse Garbage's spring wearable art exhibition, Junkie Couture II.
The exhibition kicked off with the vocal stylings of Georgia Rose, a sustainable fashion parade and featured a fabulous array of wearable art pieces, clothing, jewellery, hats, fascinators, shoes, accessories and adornments alongside other fashion inspired items such as soft furnishings, home wares, fine artworks and paper goods by over 30 local artists, craftworkers and designers who work with salvaged materials.
Salvage Garden - May 2012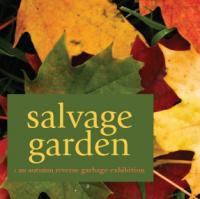 Salvage Garden showcased the work of over thirty local artists, craft workers and designers who work with salvaged materials. The exhibition included a diverse display of jewellery, furniture, fine art works, home wares, clothing and more, all inspired by natural environments and materials.
The opening event also came with a couple of gremlin-shaped twists as the Woodfordian street performance group took over the Reverse Garbage car park to launch their budget airline for six nights in May as part of the Anywhere Theatre Festival! They were joined on opening night by special guests, The Mouldy Lovers, who shared their brand of exuberant gypsy funk!
Trash Amour - February 2012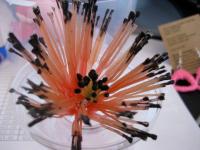 Reverse Garbage celebrated the traditionally loved up month of February with a handmade, junky, art exhibition with a twist! Forget traditional flowers, teddy bears and chocolates, this exhibition showcased romantic handmade objects with attitude and edge!
Opening night also kicked off with sets from Barren Fields and The Midnight Revelators.