Carnivale Conscientious - Exhibition and Party!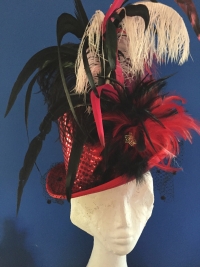 The Grand Opening of Carnivale Conscientious will feature a fashion parade, dance performance, live music (with irresistable dance beats) as well as the stunning works from over 30 arftists.
This is your chance to shop and party at the same time, finding unique treasures for all your friends each one with its own story and long history as an upcycled object.
At least half a dozen of the artists will be at the exhibition to discuss their works. The fashion parade will feature glamorous headwear, striking clothes and an array of accessories: all made from recycled materials.
The jewellery, furniture, stationery and other artworks are all at least 75% upcycled. This is Reverse Garbage's major event of the year and the warehouse as well as the emporium is open. So come along shop, dance and be merry.
Doors open at 6:30pm
You can read more about past exhibitions here. If you have any questions, please email Jennifer here.
Reverse Emporium 2015 Exhibition
Date: 21 November, 2015
Time: 6.30pm - 9.00pm
Place: Reverse Garbage Queensland, 20 Burke Street, Woolloongabba, Q 4102.