Eco-friendly holiday crafts
Dear Educators,
The festive season is a great time for kids to get hands on with art and craft projects. Have you tried using upcycled, recycled or repurposed materials in kids' art this year? In my experience it can transform an ordinary activity into something really fun and children are very open to unlocking the creative potential of "garbage"!
So with the upcoming holidays in mind, I've assembled three ideas for craft projects suitable for children and young adults. I hope this sparks your interest as Reverse Garbage Queensland would love to supply you with a box of our high quality offcuts and discards.
We also have a special postage discount for people in Queensland cities and regional centres running through December and January – all medium boxes are reduced to $125 (including materials, postage and handling). It's not up on the website yet, so email me directly or call me on 3891 9744 with your postcode to check if you're eligible for this offer.
Warm wishes,
Mary
Mail Order Coordinator
Reverse Garbage Queensland
Ideas for children's sustainable holiday crafts
1. Treasure Boxes (Childcare to secondary students) – Order your small or large box here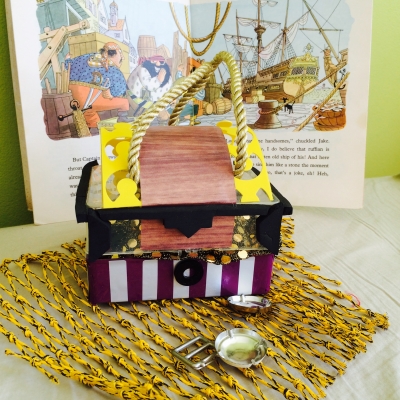 Children love boxes for collecting their treasures – here's a box they can make and then use in imaginative play or for storing handmade treasures.
Decide whether to set a theme for the activity or allow children to choose their own type of box - think pirate's treasure chests, explorer's survival kits, or useful boxes suited to a favourite hobby.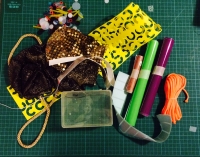 Lay out a range of salvaged materials including boxes, coloured contact, textiles, and stickers for children to choose from.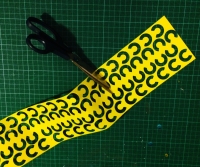 Cut up materials to add 3-D elements to the box. The pirate box in our example uses a yellow holey strip to make the curved top of the chest. (For younger children you may want to prepare materials or help with cutting.)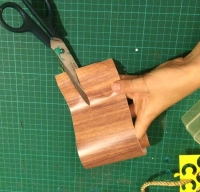 Add coloured or textured contact to jazz up the container. Timber texture is perfect for our pirate chest!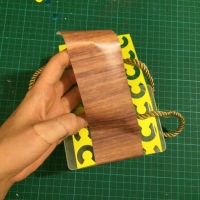 Contact can be used to attach the yellow holey strip to the box. We have also threaded a piece of rope through the holey strip to make handles.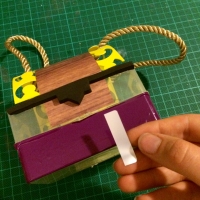 Stick on more coloured contact, stickers, and sticky-back foam for instant detail and decoration!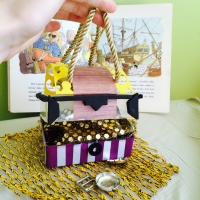 Voila - the box is done! It's time to fill with sparkly treasures and play.
2. Wild Things (Childcare to primary students) – Order your Small or Large box here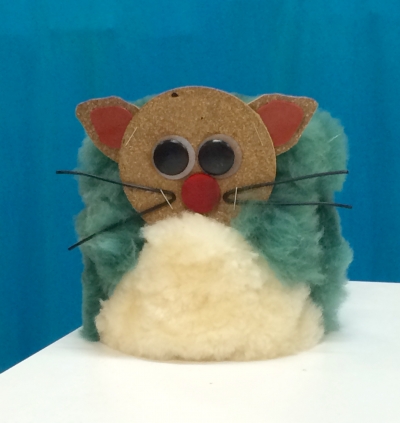 This project could be part of a learning activity about native animals and their habitats, or perhaps could follow reading a book like Mem Fox's "Possum Magic."
Assemble salvaged materials and talk to children about which types they might use to create the shapes and textures of their chosen animal.
First create the body of the animal - e.g. use a large cardboard tube or fabric tube stuffed with wadding.
Next attach things like "fur", "scales" and "feathers" using materials like sheepskin offcuts, vinyl and cardboard, attaching with glue, staples or by tying to the tube.
Create the animal's head from things like cork/rubber or cardboard discs. Cut out ears from the same material and attach these to the body with glue or staples.
Spend time giving your creature personality by adding eyes, nose, whiskers etc from small offcuts and glue these to the face.
Older children can experiment with creating arms that move and more detailed features.
3. Junk Jewellery (Grade two to secondary students) – Order your Small or Large box here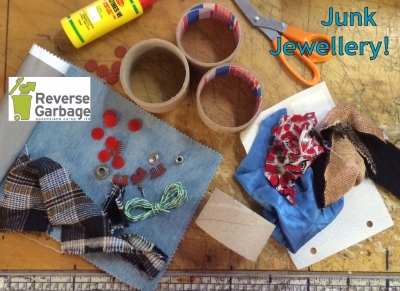 Use salvaged supplies to create a whole jewellery box full of junky necklaces, rings, or plaited textile bracelets. The example below uses cardboard tubes to create funky, chunky bangles.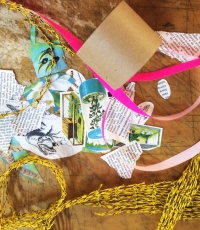 Use cardboard tubes as a base for bangles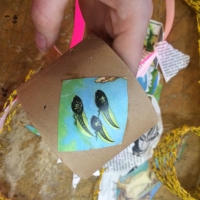 Cut out strips of fabric or pictures from magazines or old books to decorate the bangle – glue to the tube (for younger children, prepare the materials in advance)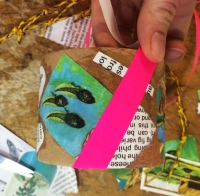 Decorate further by wrapping with salvaged stickers or strips or wire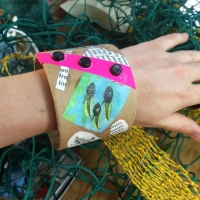 Add interesting details like our 'dots and spots', or computer and metal components (for older children).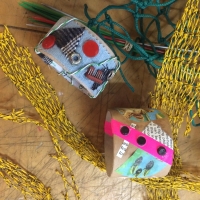 Here's another example using fabric, dots and spots, wire, and metal bits (suitable for older children).
These examples come from some of our popular themed boxes, which include instruction & environmental info sheets. To see a full range of what we offer through Mail Order, visit our website here - I'd love to pack a box of materials for you!
Please share your experiences using salvaged materials with us on social media:
#ReverseGarbageQld +
#CreativeReuse OR
#RGQMailOrder