Not Junk Mail - January 2016

Friends, customers and interested others. The silly season has passed. Many of you have unpacked those projects that have been filed away for a while and are setting up for 2016.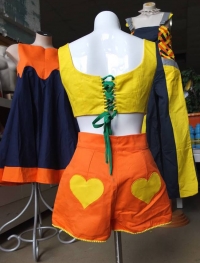 We've had literally truckloads of goodies brought in over the first part of summer, so there is plenty to surprise and delight you in the warehouse including some 'Craayyzzeee' post-xmas specials...wouldn't be January without them!
Look out for baubles and other decorations that you can pop away for next year, and some real glam gear still on the floor from our Carnivale Conscientious collection in December.
And if you're looking for guidance or inspiration on the craft front, we've got plenty of workshops coming up plus an in-store demo with a back-to-study focus - something for all ages to get amongst!
Lastly, if you're part of the education sector, keep your eyes peeled for an exciting initiative we're currently developing. 'Creative Classrooms' will be coming your way very soon, complete with a brand new online store which will make accessing your material resources a breeze. More details soon!
Whatever happened to January being a slow month...?
Enjoy! The team @ Reverse Garbage Qld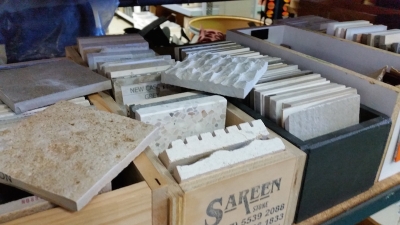 Tiles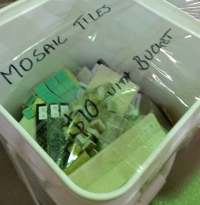 Sale table of tiles for 20c – 50c each. A great place to get materials for mosaic projects and experiments.
Bargain buckets of mixed tiles for $10 including the bucket!
Also, many complete boxes of tiles on the floor.
Fabric books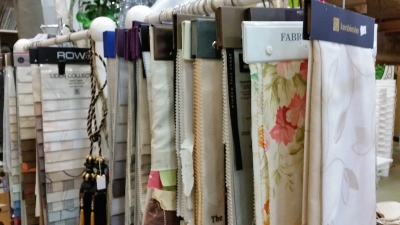 Sale rack where we have a selection of sample books for $1 to $3
Chain lengths
Selected chain half the marked price making the price range from $1.50 per metre depending upon the thickness of the chain links.
Assorted baubles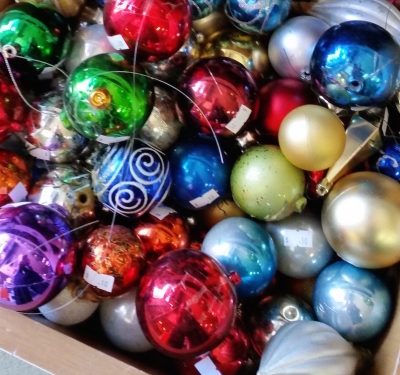 Baubles at the bargain price of 20c each – buy now and decorate for next christmas.

Tiffany style table lamp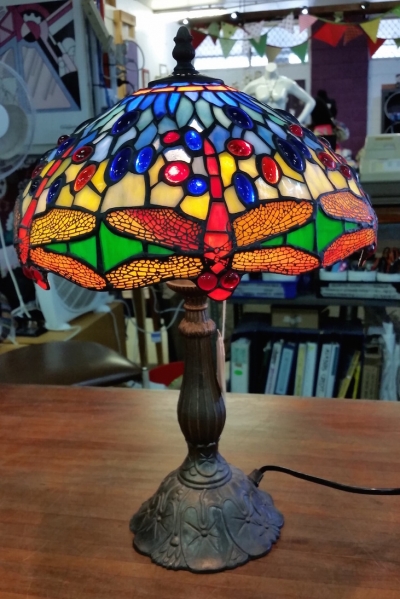 Gorgeous handcrafted dragonfly design $125
Stencils
fantastic range of clear plastic stencils featuring flowers, insects, repeater patterns and more, all are suitable for kids. $2.50 per sheet
Stamps
Decorative stamps featuring pictures and shapes and some blanks to cut your own. All are suitable for kids $1 to $2.50 each
Vintage telephone

(French style apparently) very kitsch chic – untested $30 as is
Telephone table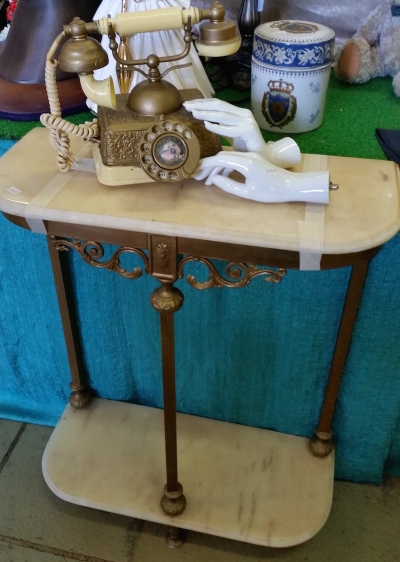 Telephone table to match with marble top and gold legs - $30 60cm (w) x 78cm (h) x 30cm (d)
Timber desk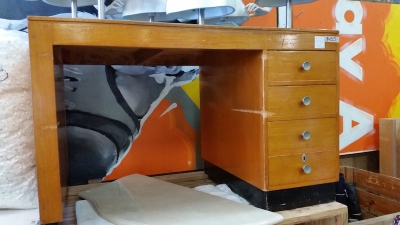 Timber desk with 4 drawers one lockable (key available) – cute old style would suit kids room or small office space. $65 122cm (w) x 76cm (h) x 76cm (d)
Flowers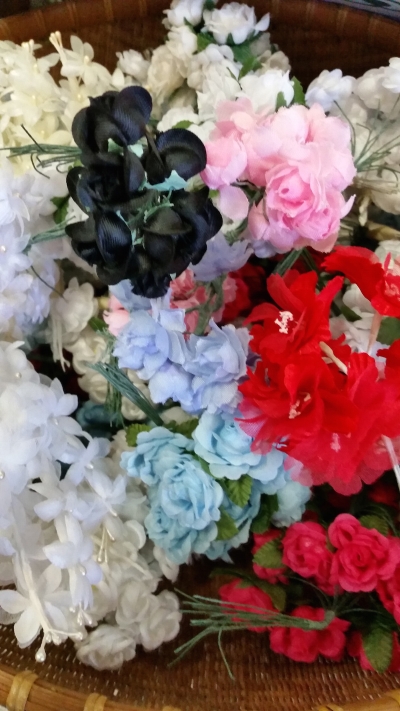 Beautiful little bunches of fabric flowers in a multitude of colours, 50c to $1 per bunch.
Cigar boxes
We have more of these lovely timber and cardboard boxes in stock in a variety of sizes $5 to $15
Vintage Electric Typewriters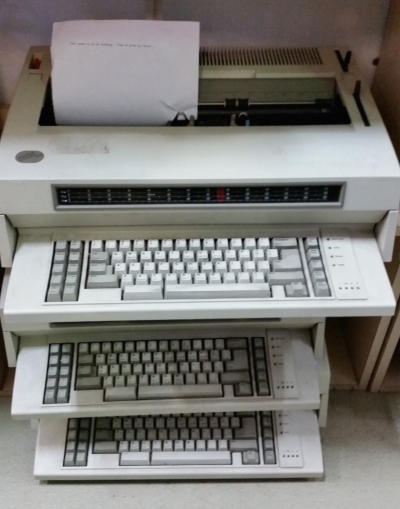 Seem to be working $15 each as is
Sewing Machines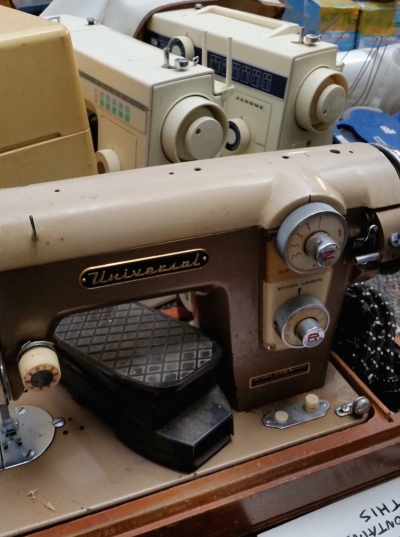 Old Sewing Machines for parts or people who like to take things apart to see what's inside! $5 to $10 each plus one working $25
Table Tops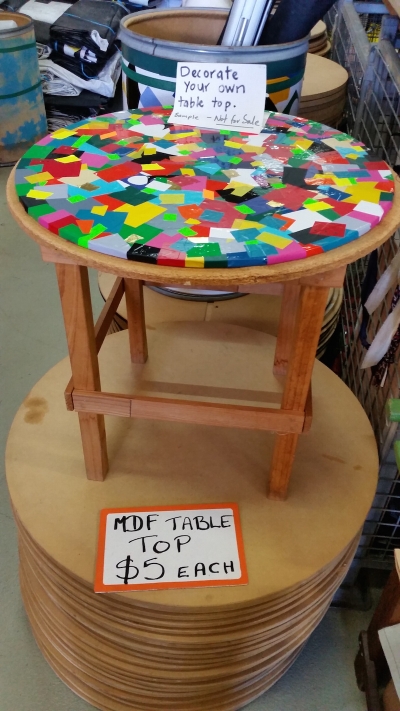 MDF ready to decorate round table tops about 70cm to 75cm diameter

Ring Binders & Arch Lever Folders
A4 sized 50c each. If you are interested in decorating folders come along to our free in store demo on Sat 13th Feb. See events section for details
A3 Plastic Ring Binders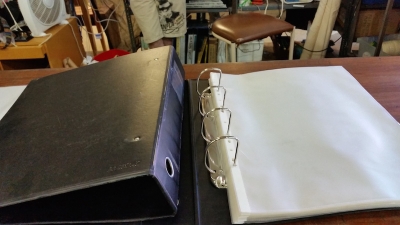 $1 binder only, $5 filled with plastic document sleeves
A3 Document Sleeves
20c each, 10 for $1.50
Divider Sheets Packs with tabs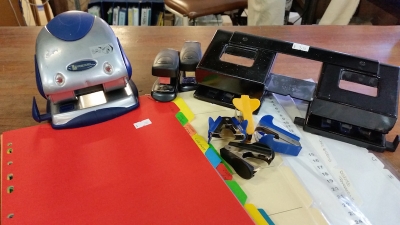 Numbers or Alphabet from 50c
Staplers
from $1.50, staple removers 50c
Hole punchers
$3.50 two holes, $7.50 four holes
Manila folders
10c each
In / Out Trays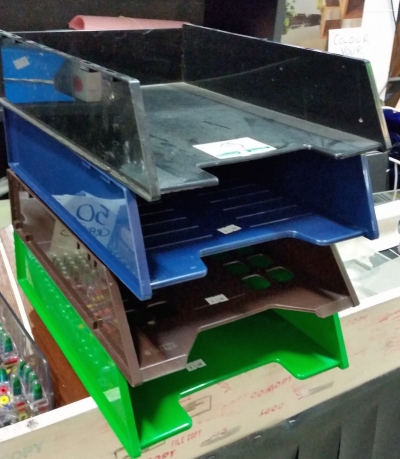 $1 each
Suspension files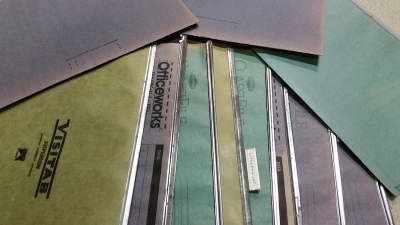 for filing or use the card for craft, it's a nice light weight and good quality 30c each or 10 for $2
Magazine holders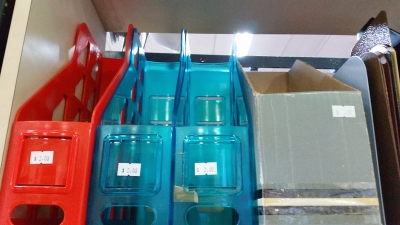 30c – 50c cardboard, $2 plastic
Metal book ends / Library dividers
$3.50 each
Ruled column pads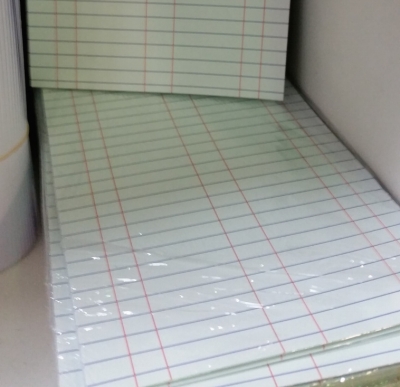 50c each
Crepe Paper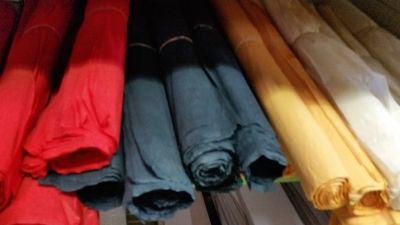 big value roll for $2.50 (approx 30 sheets per roll)
Mini coloured crayon kits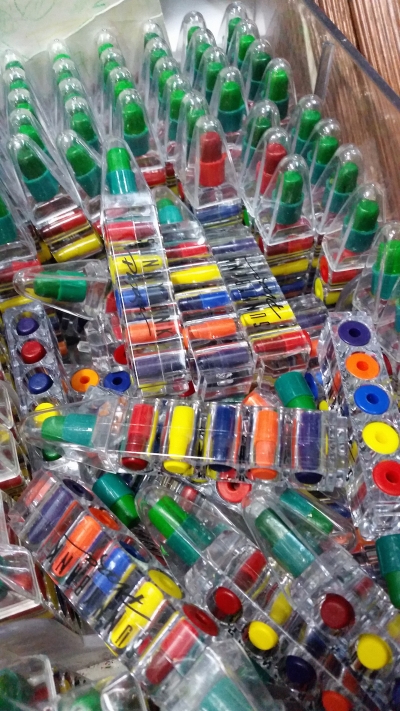 6 colours 50c
Twist up crayons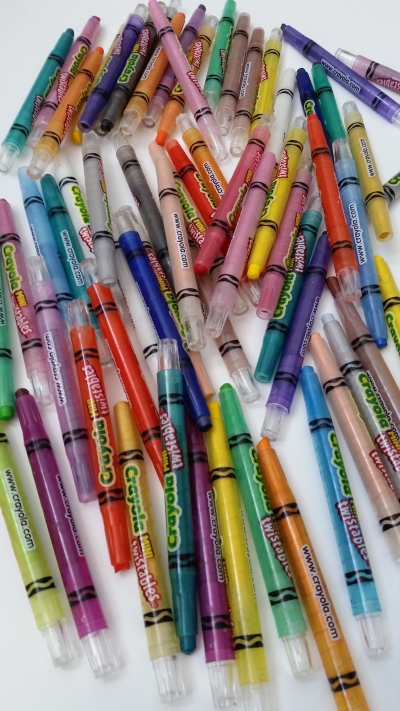 50c each

With Christmas over and weeks of summer holidays in front of you, there's no time to be bored and glum with 4 fantastic RGQ children's workshops still to come this January.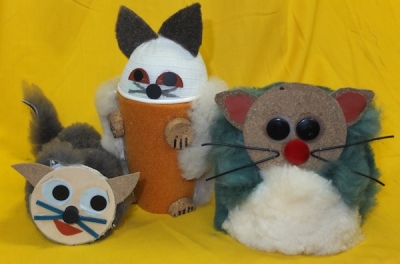 Our school holiday workshops are really creative, a whole lot of fun and sure to keep young ones happy through the holidays.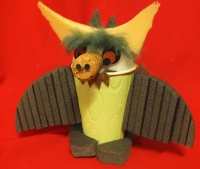 Choose from the ever popular Outer Space Adventures and Monsters and Dragons, the fun and whacky Mad Hatters Tea Party and an old favourite, Furry Friends. Children will be stimulated creatively, learn new skills in 3D construction and take home an awesome creation all their own.
We have more workshops coming up in January (19, 20, 22) so you can come back again! Check our event booking website for details.
| | | |
| --- | --- | --- |
| | 10:00-11:30 am | 2:30-4:00 pm |
| Tuesday 19th January | | |
| Wednesday 20th January | | |
| Friday 22nd January | | |
Workshops are only $20 per class (inc GST but plus a $1.79 booking fee) and include all materials. There is a maximum of 15 participants per workshop. Children 4-6yrs old are to be accompanied by an adult. To secure your place, workshops must be paid in full upon booking. Fees are non-refundable.

Woven coil bowls
Create these cute coil bowls using a selection of salvaged ropes and decorative fabric off-cuts. These make beautiful gifts or can be used to store jewellery and other trickets. You can apply the technique to make mats, brooches, earrings and other accessories.
This workshop takes place on Saturday 27 February at 2pm at 20 Burke Street, Woolloongabba. There are limited places at this adult workshop so book now via our eventbrite page. The workshop is $25 plus a $1.99 booking fee.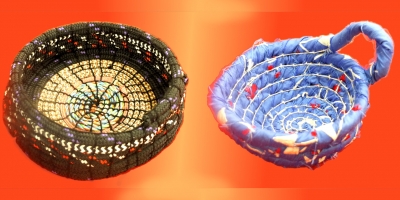 Upcycled Folders and Portfolios
Organise your paperwork and keep your artwork safe in style by attending one of our FREE in-store demonstrations on Saturday 13 February at Reverse Garbage Qld. Demos run at 10am, 12 noon and 2pm.
Louise (our local officianado on clerical flair) will show you how to make those boring stationary items in your life...well...not boring at all, not to mention infused with your own creative spirit. You'll also get to make and decorate your own folders and portfolios using salvaged materials at our free "making table" -- drop in any time from 10am until 4pm.
Book now at our facebook event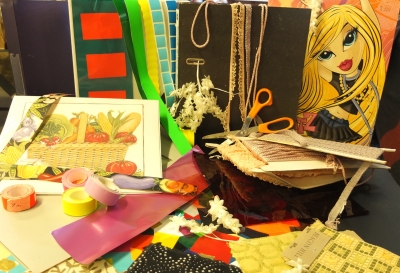 Parking Facilities at the Warehouse
We have seven parking spaces in front of the Reverse Garbage Queensland warehouse and there is also two-hour street parking available around the corner on Elliott St.
We ask that customers please do not park in the car parks of businesses on Burke Street. These are reserved for other businesses and we would not like you to get towed!
Public Transport to the Warehouse
We encourage taking public transport to the warehouse as we are within close walking distance (approx 5 mins) of both Park Road train station and Boggo Rd bus station as well as bus stops along Ipswich Rd (approx 10 mins).
Public transport runs very frequently to these stops. Check out Translink for all the routes and timetables: http://jp.translink.com.au/.
RG Social Media Links
Beat the crowds and be first to hear about our new and exciting stock as it comes into the warehouse! How? Follow us on Facebook (https://www.facebook.com/reversegarbageqld) and twitter @ReverseGarbageQ
Who are we?
Reverse Garbage Queensland is a not-for-profit worker run co-operative that promotes environmental sustainability and resource reuse. We collect high quality industrial discards, diverting them away from landfill and sell them at a low cost to the general public.
We collect from more than 300 businesses and factories in the greater Brisbane area, with approximately three tonnes coming into the warehouse each week. With a truck full of materials coming in almost every day, there's always something new and different to find.
We run a variety of environment and waste focused art workshops and educational talks and tours to suit every age and group. We also run a mail order service and host Reverse Emporium gallery and gift shop promoting local artists, craft workers and designers who salvage, reuse and up-cycle materials.
Contact Details:

Reverse Garbage Queensland Co-op Ltd

Location: 20 Burke Street, Woolloongabba Q 4102

Opening hours: Monday to Saturday from 9am to 5pm

Phone: 07 3891 9744

E-mail: info@reversegarbageqld.com.au

Web: www.reversegarbageqld.com.au

Facebook: https://www.facebook.com/reversegarbageqld

Twitter: www.twitter/ReverseGarbageQ
Friends of the Earth—Brisbane
Reverse Garbage Queensland was set up in 1998 to help support the work of Friends of the Earth (FoE) - Brisbane. FoE is a social change organisation working towards an ecologically sustainable and socially just future through community action.
Friends of the Earth believes everyone has a part to play in the protection of the environment and the creation of a socially just society that welcomes the support and involvement of a broad cross section of the community.
FoE operate in the offices above Reverse Garbage Queensland at 20 Burke Street, Woolloongabba. For more information on FoE, current campaigns and volunteering call 07 3171 2255, email office.brisbane@foe.org.au or check out their website at www.brisbane.foe.org.au.
The Bicycle Revolution
The Bicycle Revolution Co-operative is a small, non-profit business dedicated to providing quality custom built recycled and refurbished bicycles for any occasion, from the daily commute to the leisurely weekender.
Other services Bicycle Revolution offer to the community include repairs, new bicycles, new and used spare parts, powder coating, wheel building, frame building and bicycle hire.
Bicycle Revolution continues to operate at 294 Montague Road, West End. For more information call 07 3342 7829, email info@bicyclerevolution.org.au or check out their website www.thebicyclerevolution.org.au