Reverse Garbage Queensland - School Holiday Workshops - December 2015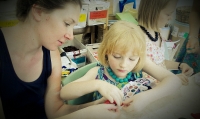 Take some time out of the pre-Christmas madness and bring children along to RGQ for our school holiday creative eco workshops. A great day out for adults and kids alike, RGQ school holiday workshops are a really fantastic way be creative, have fun and make something awesome out of industrial remnants and off-cuts. Our workshops are suitable for children 4-12, with children under 6 to be accompanied by an adult, are really hands on and an eye opener to what kinds of things are being thrown away by local businesses and manufacturers.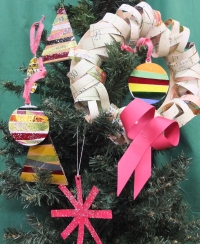 Children are fascinated by the huge variety of interesting materials on offer and love to get creative by turning our materials into something exciting. Our experienced workshop facilitator will demonstrate some techniques children can employ to make a creation all their own. We will be using collaging and construction techniques such as gluing, stapling and sticking to convert the ordinary into the extraordinary!
Our Santa and Friends workshop might see them turn some bandage tubing and wadding into an adorable snowman; or how about a cardboard tube transformed to become a fierce dragon in our Monsters and Dragons workshop!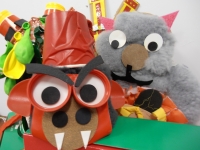 We have a great range of workshops on offer this December including our Christmas themes – Santa and Friends and Eco Christmas Decorations which children will love as the excitement for Christmas builds. Other themes on offer are our ever popular Monsters and Dragons and Outer Space Adventure. So kids can have a great time and reduce, reuse, rejoice this Christmas!
We have more workshops coming up in January (19, 20, 22) so you can come back again! Check our event booking website for details.