RGQ's Clothing Repair Cafe with Jane Milburn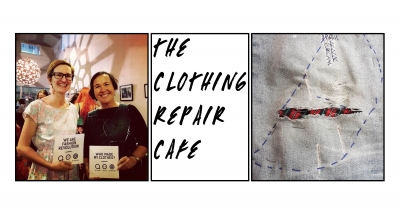 Thursday 20 April, 6:30 - 8:30pm at the RGQ warehouse 20 Burke Street, Woollongabba 4102
Register to attend (FREE)
Reverse Garbage Queensland together with slow clothing advocate Jane Milburn present an evening of making and mending in the pop-up Clothing Repair Cafe. The Clothing Repair Cafe runs as part of global Fashion Revolution Week movement.
Bring along those cherished items of clothing in your wardrobe that need repair – sewing a hem, mending a tear, reattaching a button – receive advice from Jane that will help bring your garment back to life. The cafe will be a chance to get hands-on working with fabric and learning the skills, tips and tricks for easy maintenance of items in your wardrobe. Don't be a slave to the time-consuming and expensive world of disposable fashion. Learn about mending techniques such as patching, stitching and creative disguise.
Jane will introduce you to the ideas behind the slow clothing movement and the true cost of cheap disposable fashion while learning the skills to extend the life of good quality garments. Slow clothing is also making smart choices when purchasing quality, timeless garments in choosing natural fibres that have a longer wearable lifetime.
Register via Eventbrite (free)
Jane Milburn, rural communicator and upcycler:
Jane brings wide-ranging career and life experiences to her values-based work as a slow clothing champion. She leads The Slow Clothing Project in 2016, which follows the 365-day Sew it Again campaign in 2014. Jane believes there is a pressing need to rethink our approach to clothing for sustainability. Jane is part of the Fashion Revolution bringing awareness to where clothes come from and the resources from which they are made.
The Fashion Revolution believes in fashion – an industry which values people, the environment, creativity and profits in equal measure, and it's everyone's responsibility to ensure that this happens.
Fashion Revolution Day held on the 24th April each year, is designed to bring everyone in the fashion value chain together and help to raise awareness of the true cost of fashion, show the world that change is possible, and celebrate all those involved in creating a more sustainable future. It is a global movement uniting around an annual campaign.
RSVP to the event via Eventbrite and Facebook.