T-Shirt Upcycling Instruction Sheet

Hi,
Thanks for choosing to reuse your old t-shirts!
We'll also be uploading our intstructional video to RGQ TV on Friday the 17th of April, 2020. Stay tuned!
On this page:
What you can make from your old t-shirts
Picking the right t-shirt for your yarn
Making your t-shirt yarn
Construction techniques and tips
Zero-waste goals - making the most of your off-cuts
---
1. What you can make from your old t-shirts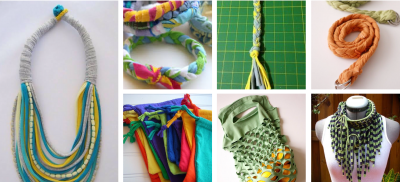 Necklaces

Bracelets

Earrings
Reuseable Bags
Pet Toys
Hair Accessories
Belts ... and so much more!
2. Picking the right t-shirt for your yarn
Any t-shirt will do for upcycling but the most ideal t-shirt for making yarn is a plain tubular (i.e. no side seams) t-shirt with minimal graphics.

( L: Tubular; R: Side-Seam. Image from https://blankteeshirts.com.au/tee-basics)
3. Making your t-shirt yarn
Place t-shirt on a flat surface
Cut a straight line parrallel to the hem from the sleeve bottom to sleeve bottom.
Cut off the hem
Fold shirt in half length-ways with side sitting about 2cm lower than the other
Rule up the shirt into 2cm intervals parrallel to the original hem
Cut along the lines and through first fold only stopping about an inch from the top fold
To make a continuous thread of yarn:
Open up shirt at the side, which now looks a bit like a paper lantern
Start the yarn by cutting the first row diagonally across to the raw hem.
Move the cut line from opposite row to opposite row so that one continuous strip is created.
Once your shirt is cut into a continuous length, pull the strip, grabbing in foot-long lengths, so that it curls on itself.
Your t-shirt yarn is complete!
We recommend watching this short step-by-step tutorial by needlepointers.com on DIY t-shirt yarn - https://www.youtube.com/watch?v=oqyhNDSXEfg
4. Construction Techniques and Tips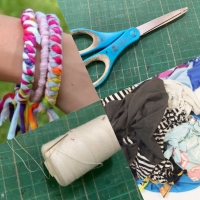 Most of our recommended construction techniques won't require sewing. However, if you'd like to have a clean finish to your jewellery and accessories, then a needle and thread will come in handy.
BINDING
Binding is a handy technique to taper off chunky pieces, join loose ends together or add a block colour accent to your jewellery. Technique-wise it is very easy to master - it's quite like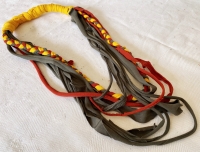 wrapping a bandage on a limb. The tighter you bind the yarn, the stronger it will be. The tighter you knot it off at the end, the longer it will stay in place. Binding is a good example of where a quick stitch will neaten off the finishing to your piece.
PLAITING
As tshirt fabric is typically stretchy, the best plait is a tight plait. Another point to note is that the more colours you'd like to add, the thicker the plait will be.
MACRAME KNOTS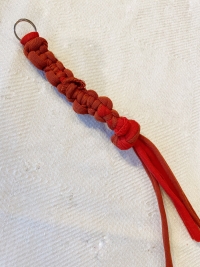 There are a number of basic knots you can do for macrame jewellery. We'll be showing you the square knot. In our online workshop, we used only 2 pieces of t-shirt yarn to creat the macrame key ring, which was created using the square knot technique:
Thread 1 was tied off with a lark's head to the key ring base.
Thread 2 was looped around the back to represent to two outside threads (green & blue lines from the square knot diagram)
For one colour, both outside threads should be the same colour
For two colours, the outside threads should be different colours. The two middle threads will slowly be covered in a square knot pattern.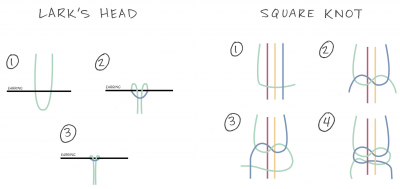 (Images from https://www.thepapercraftpantry.com/blog/tag/macrame)
TASSELS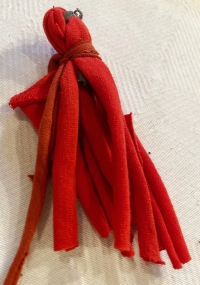 Upcycled t-shirt tassels can be turned into earrings, a pendant for an existing piece of jewellery, or embelishment to your accessories. To make your tassel:
Cut shorter strips of yarn approx 5-10cm
Fold the strands in half
At the fold point, take another strand (ideally in the same colour) at tie the bundle at the fold.
To form the 'key hole' at the head of the tassel, take another strand (again, in the same colour) and tie it at the base of the 'key hole'.
5. Zero Waste Goals - making the most of your off-cuts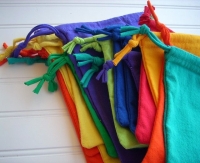 THE SLEEVES
As much as we love t-shirt yarn, sleeves are an unnecessary off-cut. Here's a 10-minute solution that will transform those sleeves into a practical pair of draw-string pouches. Try it! https://thethingswellmake.com/sleeve-to-pouch/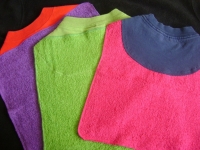 THE COLLAR & YOKE
When odd-shaped pieces reach the 'off-cut' pile it's because we aren't able to reimagine them in another function. If you've reached this point, then the best tip we can give you is to not over think it. For example, t-shirt off-cuts are perfect for reusable cleaning rags.
Otherwise, if you're a sewer, who also has old towels piling up, why not combine the two and upcycle them into bibs. Try it! http://graciousrain.com/washcloth-bibs-101/