Waste-Free Winter Workshops!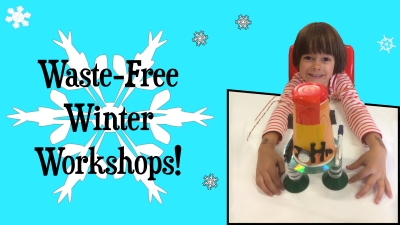 Have you seen ABC's The War on Waste? We've heard lots of families are watching the TV show and thinking of ways to reduce their household waste together. We're here to help!
These winter holidays we'll explore creative ways to get kids involved in waste reduction and upcycling. We'll learn how to use clean industrial discards to create useful objects, tinker with "waste" materials and make amazing works of art!
Our holiday workshops are specially designed for different age groups from kindergarten up (see below for details, and parents are welcome too!).
Rag Rugs for kids and adults (taster workshops)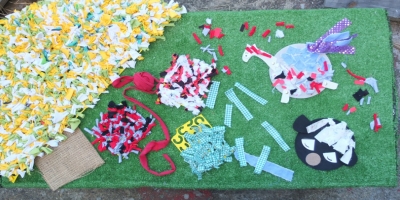 Drop-in to our rag rug room any time from 10am to 12:30pm for some creative fun for parents and young children (only $5). Make a small rug panel using our lovely array of salvaged textiles with guidance from an experienced facilitator so you can complete your project during the long winter evenings.
Children can help make a rag rug, make an animal or character with shaggy hair using textiles offcuts or play in the loose parts zone. You can also contribute a panel to our large community rag rug which will be donated to a local charity.
Book online
Saturday 24 June 10:00am-12:30pm
Monday 26 June 10:00am-12:30pm
Thursday 29 June 10:00am-12:30pm
Saturday 1 July 10:00am-12:30pm
Friday 7 July 10:00am-12:30pm
Tinker Space: Robots, amazing inventions and creative constructions!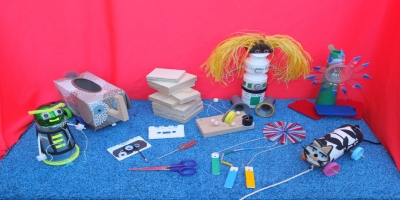 Step into our tinker space to invent your own toy or object from salvaged materials. It could be a robot, a toy with moving parts, or a fabulous junky construction!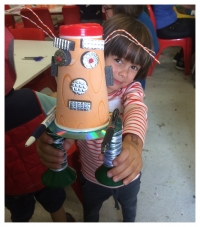 To increase the fun, children can use tools to take apart old, broken objects to use in their inventions. Parents are welcome to join in at no extra cost; or better yet, why not bring a friend and create something awesome together?
Suitable for ages 4 to 12 (children under 7 must be accompanied by a guardian).
Book online
Monday 26 June 2:00pm-3:30pm
Friday 30 June 2:00pm-3:30pm
Easy-peasy Macrame Plant Hangers!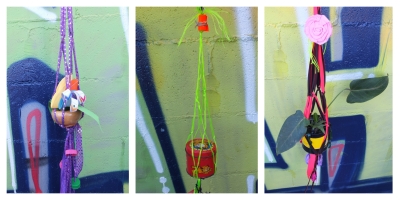 In this fun workshop aimed at older children, we'll show you the ropes and have you tying knots to create your own simple macrame plant hanger! We'll be exploring a basic macrame technique and using an array of salvaged fabric strips from the warehouse!
Please note, plants and containers are not provided. We encourage you to bring along an old unwanted household item or container to upcycle into your plant pot.
Suitable for ages 8 to 13.
Book online
Thursday 6 July 2:00pm-3:30pm
Dress-up Box Unleashed!
Come and creatively reuse fabric discards, wire coat hangers, sheepskin offcuts, foam strips, colourful plastics, silver cardboard and many more salvaged materials to make a costume perfect for adventuring to other worlds! Be a fairy with wings or a superhero with super powered accessories!
Suitable for ages 4 to 12 (children under 7 must be accompanied by a guardian).
Book online
Thursday 29 June 2:00pm-3:30pm
Free DIY Craft Sessions
Got some materials that you just can't wait to play with? Well, wait no longer! We're opening up our new customers' creative space for you to make, craft, fix, mend!
Free DIY craft sessions (no facilitator provided)
Wednesday 28 June 10:00am-12:30pm
Monday 2 July 10:00am-12:30pm
Wednesday 5 July 10:00am-12:30pm