Woven Coil Bowls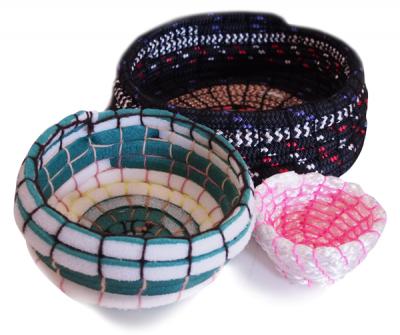 In this workshop, using a simple hand sewing technique, we will be creating a "coil bowl." The facilitator will show you how to get started, how to add materials as your bowl progresses and demonstrate how to finish off your bowl. Depending on time and the size of the initial bowl or vessel you would like to make, you may be able to make a second smaller bowl to complement the one you've made and to reinforce what you've learnt.
By reusing foam and synthetic materials like climbing rope, we reduce plastics and polymers going to landfill. Some of these materials can't be recycled or the high cost of doing so results in them being readily disposed.
You can book and pay for this workshop online here.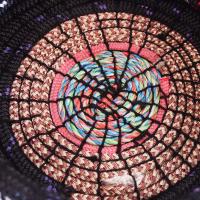 Most of what is reclaimed at Reverse Garbage Queensland comes from the manufacturing industry and is generally high quality, locally produced materials. These materials are essentially unused and direct from the factory or manufacturer.
We divert them from landfill to limit what is wasted but also to reduce demand for "consumer craft" materials. Using industry standard materials, means you're using the best on offer to make durable objects and by using the discarded pieces you are also reducing landfill, responsibly using up resources that have already been processed and in doing so reducing your consumption.
Reusing what's at hand also requires some good old fashioned creativity. In this workshop we will show step by step how to use materials that may not have an apparent or immediately obvious use. By engaging in this process, you begin to see how other things can be used for many different purposes and substituting reclaimed materials for new is possible for so many art, craft and design projects.
This technique can be applied successfully to a large number of materials, using many smaller pieces to form larger useful items, similar to patchworking. You may continue to apply what you learn in this workshop to experiment with natural materials and fibres, make larger sculptural forms or create something practical like a cat or dog's bed, a rug or a bag.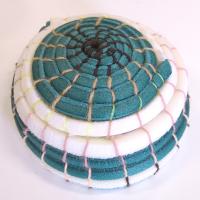 Our adult workshops run for two hours. This allows for a relaxed pace to make creative decisions and really get immersed in the making of your piece!
You can book and pay for this workshop online here.
See this event on our workshop calendar here.
Attend with friends! Share and invite friends on facebook here.
WHAT - Woven Coil Bowls | Adult Eco-Art Workshop
WHEN – Saturday 25 March 2017
TIME – 2-4pm
WHERE - Reverse Garbage Queensland, 20 Burke Street Woolloongabba.

COST - $27 (includes materials, tools and facilitator), please note, payment is due on booking and fees are non-refundable.
AGE - Adults and teens (13 +)
MAXIMUM – 20 participants per workshop
You can book and pay for this workshop online here.
If you have an enquiries about this workshop or would like to book over the phone with a credit card, please call 3891 9744.