Collection of Clean, Useful Industrial Discards
Do you ever have bins and skips full of materials that are too good to waste?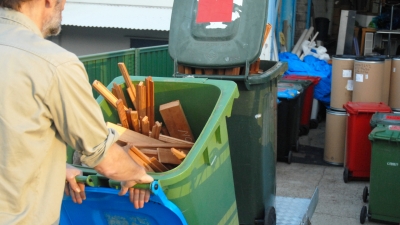 Why not see if Reverse Garbage Queensland can collect your industrial and commercial discards and make them available to the community for reuse? Contact us (if you're in the Brisbane area) to find out!
How does it work?
First we need to get an idea of the kinds of materials you are currently throwing out. We might come out to do an inspection or ask you to send photographs.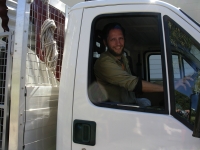 If we think we can find a new home for your discards we will provide you with one of our bins (240L wheelie bin) to fill with pre-approved materials. Reverse Garbage Queensland can collect on a regular or irregular basis depending on the quantity of useful discards you produce.
We can also arrange one off pickups. As we have to sight everything before we agree to take it, please give us plenty of notice so this can be arranged around our regular truck runs.
Is there a cost?
Our discards collection service is free of charge, helping you save on your disposal costs. We reserve the right to refuse any materials, especially bins that have been contaminated with general waste. We are not your average rubbish removal service!
What happens to the materials?
We bring the materials back to our warehouse in Woolloongabba, sort them and sell them direct to the public for use in art and craft projects, home and garden improvements and anything else our ingenious customers come up with!
Who benefits from the donated waste?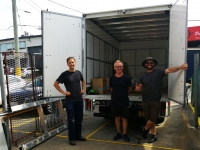 You do! We reduce your disposal costs.
The environment does! Every item we sell reduces the materials going to landfill and demand for new natural resources – that's a double win for the environment!
The community does! We provide affordable materials for schools, community groups and individuals to get creative while helping the planet. We also promote and support the arts through our gift shop, exhibitions and providing low-cost materials to students and artists.
Reverse Garbage Queensland does! We employ over ten people and is an example of a socially and environmentally sustainable business that can balance the books too.
Friends of the Earth does! RGQ supports the work of Friends of the Earth-Brisbane through in-kind donation of office space and materials.