Educators Series 2020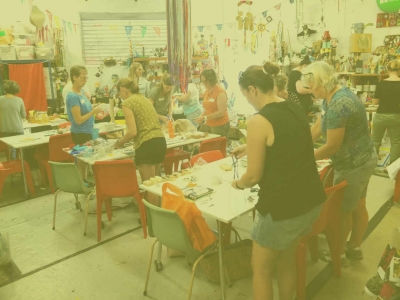 To get the full details for this year's Series and register your interest click the link below
Did you attend our Creative Reuse Master Class for EYL Educators?
Here's our book recommendations for Loose Parts Play
Something Wonderful : by Raewyn Caisley, Karen Blair (Illustrator)
Sam likes to pull things apart and put them back together, and think about how things work. But he is sometimes so busy doing this, he forgets his chores on the family farm.
Then one day he creates something truly wonderful . . .
An inspirational story about discovery, invention and the importance of dreams.
Whatcha Building? : by Andrew Daddo, Stephen Michael King (Illustrations)
'A MULTI-LAYERED BOOK ABOUT HOW OUR WORLD IS CHANGING AROUND US'
- ReadPlus
The old milk bar on the corner is coming down to make way for something new. Little Davey Durak is gathering scrap - a short piece of wood here, a long piece there.
But what's Davey building? Bruce the builder wants to know, but Davey won't tell …
I Have an Idea! : by Hervé Tullet
A meditation on and celebration of the birth of a simple idea. An exploration of the creative process: from an initial tentative inkling, to the frustration of chasing the wrong notion, to finally the exhilaration of capturing—and nurturing—just the right idea.
What To Do With a Box : by Jane Yolen, Chris Sheban (Illustrations)
If you give a child a box, who can tell what will happen next? It may become a library or a boat. It could set the scene for a fairy tale or a wild expedition. The most wonderful thing is its seemingly endless capacity for magical adventure, a feature imaginatively captured in cardboardesque art by Chris Sheban and rhythmically celebrated in this poetic tribute by renowned children's author Jane Yolen.
Not a Box : by Antoinette Portis (or Not a Stick)
A box is just a box . . . unless it's not a box. From mountain to rocket ship, a small rabbit shows that a box will go as far as the imagination allows.
Inspired by a memory of sitting in a box on her driveway with her sister, Antoinette Portis captures the thrill when pretend feels so real that it actually becomes real—when the imagination takes over and inside a cardboard box, a child is transported to a world where anything is possible.
Perfect : by Danny Parker (Author/Illlustrator), Freya Blackwood (Author/Illustrator)
Perfect captures the simplicity, spontaneity and freedom of an idyllic childhood, while Freya Blackwood's paintings of the three children roaming a rolling beachside idyll capture the light - and even the smell and feel - of a perfect summer day.
Florette : by Anna Walker
When Mae's family moves to a new home, she wishes she could bring her garden with her. She'll miss the apple trees, the daffodils, and chasing butterflies in the wavy grass. But there's no room for a garden in the city. Or is there?
What If… : by Samantha Berger ( Author), Mike Curato (Illustrator)
Creativity, the power of imagination, and the importance of self-expression are celebrated in this inspiring picture book written and illustrated by real-life best friends.
This girl is determined to express herself! If she can't draw her dreams, she'll sculpt or build, carve or collage. If she can't do that, she'll turn her world into a canvas. And if everything around her is taken away, she'll sing, dance, and dream...
Stunning mixed media illustrations, lyrical text, and a breathtaking gatefold conjure powerful magic in this heartfelt affirmation of art, imagination, and the resilience of the human spirit.
The Most Magnificent Thing : by Ashley Spires, Author
Award-winning author and illustrator Ashley Spires has created a charming picture book about an unnamed girl and her very best friend, who happens to be a dog. The girl has a wonderful idea. She is going to make the most MAGNIFICENT thing!
> A book about creative frustration.
Rosie Revere, Engineer
Ada Twist, Scientist
Iggy Peck, Architect
Sofia Valdez, Future Prez
by Andrea Beaty (Author), David Roberts (Illustrator)
Harold and the Purple Crayon : by Crockett Johnson
"One night, after thinking it over for some time, Harold decided to go for a walk in the moonlight." So begins this gentle story that shows just how far your imagination can take you. Armed only with an oversized purple crayon, young Harold draws himself a landscape full of beauty and excitement. But this is no hare-brained, impulsive flight of fantasy. Cherubic, round-headed Harold conducts his adventure with the utmost prudence, letting his imagination run free, but keeping his wits about him all the while. He takes the necessary purple-crayon precautions: drawing landmarks to ensure he won't get lost; sketching a boat when he finds himself in deep water; and creating a purple pie picnic when he feels the first pangs of hunger.
Primary age
What Do You Do with an Idea? : by Kobi Yamada ( Author), Mae Besom (Illustrator)
This is the story of one brilliant idea and the child who helps to bring it into the world. As the child's confidence grows, so does the idea itself. And then, one day, something amazing happens. This is a story for anyone, at any age, who's ever had an idea that seemed a little too big, too odd, too difficult. It's a story to inspire you to welcome that idea, to give it some space to grow, and to see what happens next. Because your idea isn't going anywhere. In fact, it's just getting started.
Weslandia : by Paul Fleischman, Kevin Hawkes (Illustrator)
WESLANDIA honors the misfits—and the creators—among us.
Enter the witty, intriguing world of Weslandia! Now that school is over, Wesley needs a summer project. He's learned that each civilization needs a staple food crop, so he decides to sow a garden and start his own - civilization, that is. He turns over a plot of earth, and plants begin to grow. They soon tower above him and bear a curious-looking fruit. As Wesley experiments, he finds that the plant will provide food, clothing, shelter, and even recreation. It isn't long before his neighbors and classmates develop more than an idle curiosity about Wesley - and exactly how he is spending his summer vacation.
Metal Man : by Aaron Reynolds
"There's a fire in me, just like that torch."
Devon visits the Metal Man at his fiery workshop every day, despite the scorching heat of the city where he lives. At the Metal Man's shop, sparks fly from his welding torch as he cuts and melts together old pieces of junk into works of art. Devon is fascinated by the Metal Man's creations. Then one day, the Metal Man lets Devon put his own imagination to work.
Aaron Reynolds's urban voice and the gritty illustrations of Paul Hoppe bring an exciting beat and pulse to the story of a young boy discovering his own voice and vision in art with a kind mentor to lead the way.
Loose Parts reasources:
Welsh Play Tool Kit
p { margin-bottom: 0.25cm; line-height: 115% }
a:link { so-language: zxx